Gone are those days when wedding cakes used to be huge with intricate designs and decorations. The modern couples are now in search of something uniquely different for their Big Day. Setting new records is a new trend as more brides and grooms are searching for every possible offbeat way to make their weddings one of a kind. Wedding cake alternatives are the latest entry in this let's-break-the-norms list. If you are not too keen on 7 tier royal wedding cakes, then here these 10 amazing wedding cake alternatives would be ideal for you.
1. Cheesecakes
Before we explain why it is one of the best wedding cake alternatives, tell us the name of one person who does not like cheesecakes! You got it right!
Courtesy: confetti.co.uk
2. Mini Tarts
An amazing assortment of mouth-watering mini tarts is not only visually appealing, but, too good for our taste-buds as well.
Courtesy: prestonbailey.com
3. Cupcake Tower
These little cupcakes offer so much creativity when it's about making a wedding cake with them. You can arrange them in a tower or set them in traditional pull-apart way.
Courtesy: weddingideasmag.com
4. Mousse Wedding Cake
Mousses of different flavours. Ambrosial! So, who is up for it?
Courtesy: paperandlace.com
5. Strawberry Tarts
Just what you need for the center table. The red and white will set the mood perfect for your wedding day.
Courtesy: confetti.co.uk
6. Cake Pops
Such a drool-worthy sight! Tickle the child in you and pop the cakes into your mouth.
Courtesy: weddingomania.com
7. Croquembouche
You don't have to be a French to make it happen. Croquembouche, the traditional French pastry, with caramel syrup and spun sugar ribbon web can kill you with its beauty and taste.
Courtesy: lickthespoon.co.uk
8. Mixed Berry Cheesecake
It's not bad to indulge in some sinful pleasures on your wedding day.
Courtesy: eastbournestyle.co.uk
9. Rice Krispies Treat Wedding Cake
Well, surprise your guests with such a nostalgic wedding cake alternative.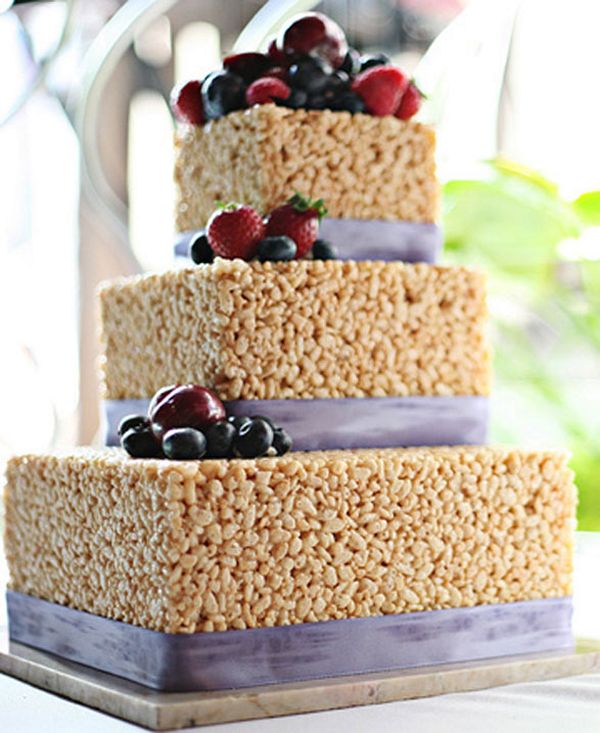 Courtesy: intimateweddings.com
10. Doughnut Wedding Cake
And, this one is for all the doughnut lovers.
Courtesy: saphireeventgroup.com
Featured Image: topwedding.com