The light chill in the air is telling us that winter is here. Winter means wedding. Yes, the wedding season is also here at last. All the soon-to-be brides/grooms are busy with last minute preparations and the band-baaja-baraat is waiting to get set and go. The excitement is in the air. And when you talk about wedding, you cannot ignore Bollywood as the industry currently has so many "rumored couples" whose alleged relationships are always on the headlines. Though the couples will always appear as "good friends," but you never know! So here's a list of the 'rumored couples' who, we think, should get hitched on this wedding season. Read to see who is in the list and who is not –
#1 Anushka Sharma and Virat Kohli: Now, this is a wedding the nation is expecting like anything! As soon as the news of this angry young cricketer Virat Kohli's parents visiting Anushka's at her Mumbai penthouse spread, the speculation about their marriage started making headlines. And who can forget their comfortable body language from the photos from New Zealand?
Photo courtesy: filmsofindia
#2 Ranbir Kapoor and Katrina Kaif: For quite a long time, the love affair between the Kapoor boy and Katrina Kaif was doing the buzz. Then the paparazzi pictures of the two together in Spain followed by the video of Katrina having dinner with her beau and her mother almost unofficially confirmed their relationship status. Kareena's statement in Koffee with Karan about her planning to dance in Kat and Ranbir's wedding left very little things to imagination. Hence, we are hoping to see this literally made-for-each-other couple tying the knot by the end of this year.
Photo courtesy: topfashionz
#3 Ranveer Singh and Deepika Padukone: Well, from the rumor mills of Bollywood, it can be easily guessed that something is brewing between Ram and Leela, if not romance. So, let's hope that this weeding season will add some more colors to their love life.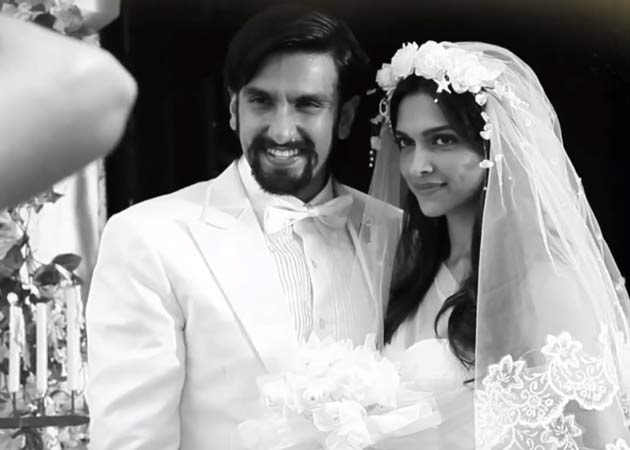 Photo courtesy: ndtvimg
#4 Nargis Fakhri and Uday Chopra: The two have recently been spotted together holidaying in Maldives. Moreover, from their lots of public appearances together, we are hoping to see Uday Chopra tying the knot soon with Nargis Fakhri following the footsteps of his elder brother who soon got married to Rani Mukherjee.
Photo courtesy: media2.intoday
#5 Shahid Kapoor and Sonakshi Sinha: First, it's their instant chemistry in the set of R…Rajkumar followed by their being-comfortable-in-each-other's-presence signs in Koffee with Karan, and now this selfie posted by Sonakshi kissing her "good friend" Shahid are enough to tell us the entire story.
Photo courtesy: indianexpress.com
#6: Arjun Kapoor and Alia Bhatt: The new Bebo of Bollywood is recently doing the round about her growing intimacy with her 2 States co-star Arjun Kapoor as well as with his sister, Anshula. Though the new lovebirds are too young to tie the knot, we are hopeful that they will have a merry time this winter.
Photo courtesy: chitramala
#7 Salman Khan and Lulia Vantur: Last but not least, we seriously DO want to see our Chulbul Pandey as a groom with his new Romanian girlfriend.
Photo courtesy: media2.intoday