The Kapoor sisters have amazed us in so many ways. From their success stories to their style mantras or affairs, these Bollywood sisters never fail to surprise us. And their weddings were no exception. Both Karishma and Kareena Kapoor who are genetically gifted with good looks along with a flawless skin and peachy complexion, thanks to their Pashtun lineage. They left everybody spellbound with their wedding looks and style statement. Whether it's Karishma's crystals-studded alluring pink lehenga-choli or Kareena's royal orange sharara, the Kapoor sisters left no stone unturned to make their wedding looks and attire looking the ultimate in B-town.
So, to all our soon-to-be beautiful brides, let's take wedding style tips from these two famous Kapoor sisters.
Makeup Tips:
Well, let us start with the makeup first as this is the most important part of your wedding look. The best sarees and jewelleries may fall flat if you can get that perfect bridal makeup. After all, who would want the guests to look at her sarees and jewelleries instead of her face? Hence, focusing on your makeup is the key to look beautiful on your D-day. And the Kapoor sisters reinforce this idea with their wedding makeup.
Look at this picture of Karishma Kapoor post her wedding. She looks every bit gorgeous in the beautifully designed pink lehenga and diamond jewelleries. To balance her heavy bridal dress and jewelleries, she opted for a natural makeup tone. She did not need a heavy makeup to look her best. Rather she let her highlighted eyes and peach pink lips do the magic along with the diamond mang-tilak and nose ring.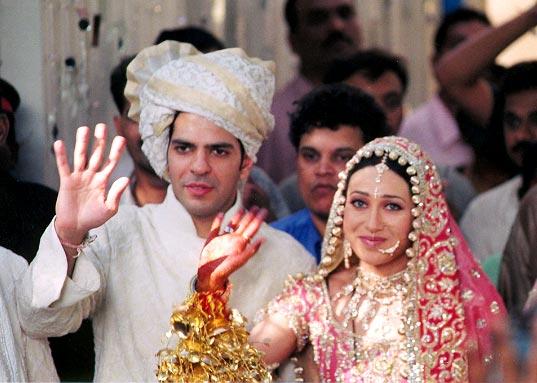 And, Kareena won our hearts completely with this simplest-ever look. In most of the fans opinions, she has beaten everyone with this look and attire. The green and red contrast literally did magic on all of us while her no makeup look left us mesmerized. She did not even require a blush-on as the visibly happy and blushing Kareena showed oodles of elegance and radiance on that very day. No wonder, the Nawab has an eye for 'beauty!'
Bridal Wear Tips:
Dress:
Coming to the next most important part, bridal wear! If we look at the wedding dresses of both Karishma and Kareena, the first thing catches our attention is the selection of colors. While Karishma went for a shell pink dress, her sister played well with different shades of the best bridal colors for her pre-wedding, wedding and post-wedding functions. So, plan ahead the colors of your bridal-wears and match your accessories accordingly.
Jewellery:
Jewellery comes next in the list. Well, both Karishma and Kareena flaunted their treasure of gold, diamonds and other precious jewels and stones. But, note their preference for one single heavy jewellery piece instead of lots of chains and necklaces. Simple yet outstanding has been the key mantra for both Karishma and Kareena.
Image courtesy:
rediff.com
glad2bawoman.com
media2.intoday.in
weddingshome.com
lahoripoint.com