As destination wedding  trend is fast picking up, many couples are giving their traditional wedding planning a second thought. Now, if you are a couple who wants to have a destination wedding at a serene beach, but, does not want to take the trouble of travelling to Mauritius, Hawaii or Bora Bora; then this article is for you. Why go abroad if you can have amazing shuddh desi style Indian beach wedding? And we also give you 10 more irresistible reasons to do so-
1. Small cosy ceremony with handful of guests
Nothing can be more annoying than greeting those unknown or semi-known coworkers, neighbours and extended family members. A destination beach wedding is the best way to ditch them. Make your wedding an intimate affair with just the few special ones who have always been with you.
Pinterest
2. It's affordable
Whether it's Goa or Andaman or Kerala, you can hire amazing wedding planners at much lesser rates. Also, the total cost will be unbelievably cheaper than a traditional wedding or a destination wedding abroad.
Read more about Goan Beach Weddings here.
Pinterest
3. Exotic, surreal backdrop
Seriously, where else can you find mesmerizing backdrops for your wedding mandap than a beach wedding at sunset?
Pinterest
4. Picture perfect wedding photos
And that ensures a wedding album everyone is going to envy!
Pinterest
5. Easy to customize and decorate
Whether it's opting for a casual wedding dress or contemporary decor, you have all the liberty to do so. It's your wedding, your country. So, plan and enjoy it in your way.
Pinterest
6. Magical evenings
Since your body is well-accustomed to the weather, you can just sit with your loved ones, relax and watch the sun going down over the horizon. What fun way to have a sangeet/mehendi night under such exotic conditions!
Pinterest
7. Perfect setup for new romances
Romantic beaches, wedding parties, amazing sea, what else do the singles in the team need to fall in love?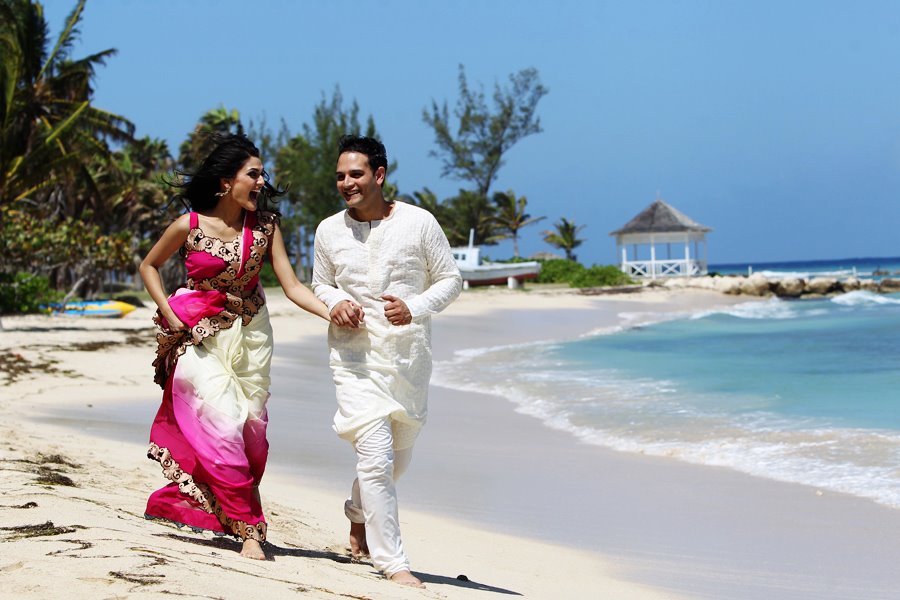 workingbrides.com
8. Stress Free
With everything in order and a small number of guests to look after, Indian beach wedding can be stress-free in its true sense.
9. Grand holiday for all
For the guests, it's like killing two birds with one stone. It's attending a wedding to wish the newlyweds as well as a much-needed holiday at an exotic beach.
Pinterest
10. Immediate minimoon and lots of "we time"
Elope secretly with your better-half once the wedding is over to some secluded beach nearby and enjoy an immediate honeymoon. Moreover, family members won't forbid you from seeing each other "before the wedding too"!
Park Hyatt Goa
To make it the best day of your life, read how to plan an Indian beach wedding the right way.
Featured Image Courtesy: Pinterest